World-class fun at the Little Ski Hill Article
World-class fun at the Little Ski Hill
On McCall's Little Ski Hill, 15-year-old Clyde Rydalch, may be known for his free-style ski jumping, flying down the steep, compacted snow, hitting the jump, and then spectacularly somersaulting through the icy, mountain air. But these days he is also known as a teacher and mentor in his position as a ski instructor to droves of the local children participating in the Little Ski Hill's after-school programs.
Little Ski Hill was built over 83 years ago, originally designed for the popular sport of ski jumping. Over the decades it has grown to be so much more, and today the hill is an integral part of McCall's recreational community. Its mission is to provide affordable, accessible, and sustainable recreation facilities which provide a full spectrum of programs for surrounding communities while reducing any financial barriers to participation.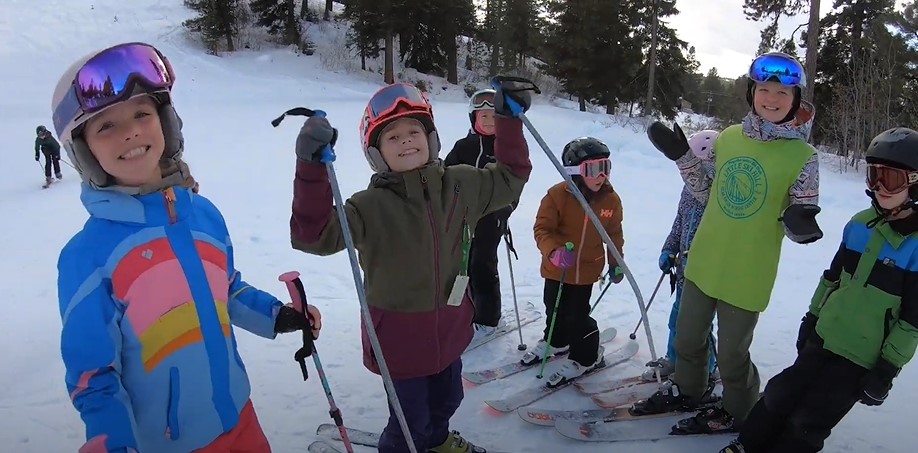 Today, Little Ski Hill offers the largest after-school program in Valley county, serving more than 250 children ages 5 to 18, with lessons four days a week, for seven-week sessions each season. The ski school program is inclusive and open to all students regardless of their ability or economic situation, providing bussing from area schools, and scholarships for those in need.
"The ski school is really when Little Ski Hills' heart beats the loudest"

Jennifer Dummar, Development DIrector at Little Ski HIll
The learning experiences at the ski hill may start with the students, but extends to the Hill's teen ski instructors as well. Clyde Rydalch's experience is evidence of Little Ski Hill's commitment to the ideals of education, community service, and sustainability. The teen instructors at the facility are asked to work for one year as volunteers before applying for paid positions for the following seasons. Rydalch honed his own skiing prowess on that very same mountain, taking ski lessons at Little Ski Hill for three years when he was younger. He now volunteers as an instructor, passing on the skills he gained on the slope to the community's next generation of skiers. His mother, Laura, feels that being a volunteer instructor instills in the teens a sense of responsibility, professionalism, and commitment to the community.
Little Ski Hill's mission and continued ability to serve the growing area were becoming limited due to long-needed renovations to the ski resort's aging infrastructure. Little Ski Hill's innovative leaders have been able to launch their Lift. Lights. Little Hill. campaign and bring the necessary projects to fruition.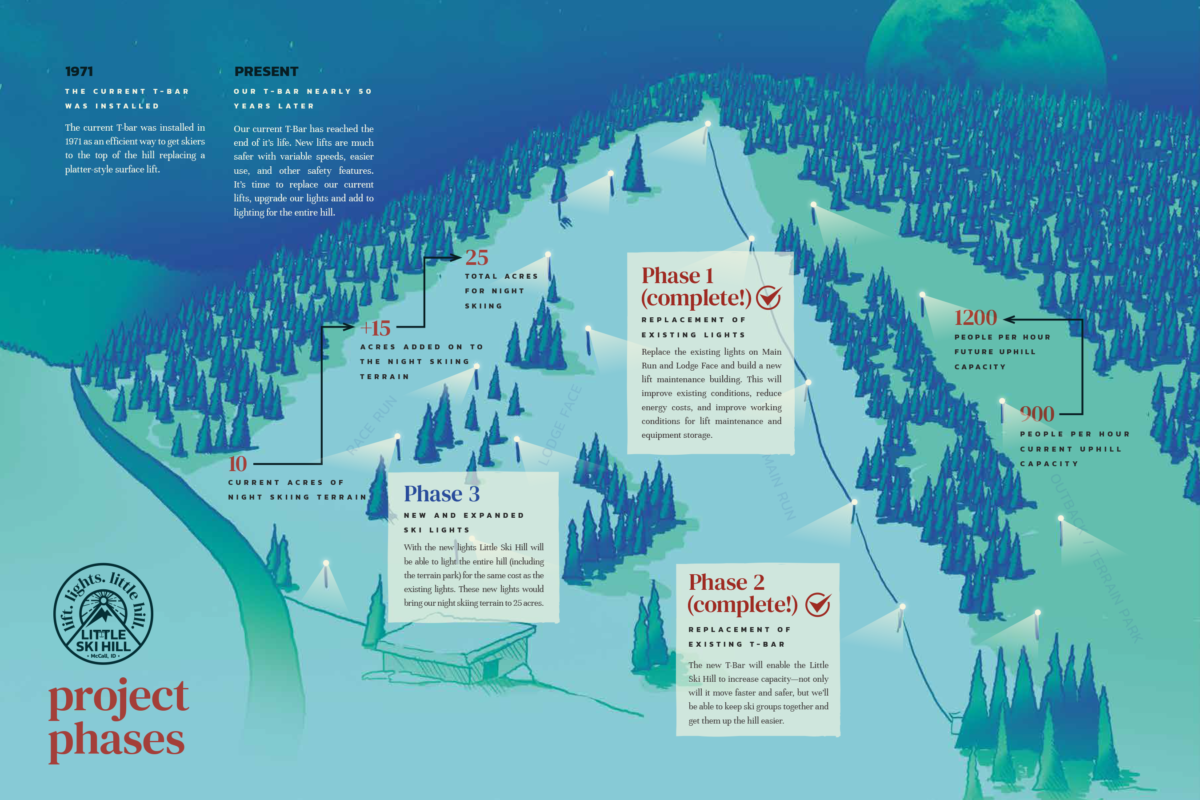 The improvements, completed in 2020, included replacing the 50-year-old T-bar lift with a new one that is reliable and faster. The hill has also expanded its lighting to increase the usable terrain and the availability of night skiing, essential for expanding the after-school programs to meet the community's needs. These renovations are an investment in the long-term viability of this cherished recreational gem. Colby Nielsen, Executive Director and General Manager of the Little Ski Hill and a McCall native stated, "We will be able to accommodate more of our community, more kids, and we'll be able to expand programs that we're currently maxed out on."
"We will be able to accommodate more of our community, more kids, and we'll be able to expand programs that we're currently maxed out on."

Colby Nielson, Executive Director of Little Ski HIll
Little Ski Hill is a perfect example of providing accessible world-class recreational opportunities and community engagement for Idahoans and their families. With its dedicated leaders and a strong vision for the future, we anticipate that Little Ski Hill will remain sustainable and continue to grow and serve the Valley County communities for another 83 years.
Recent Stories
Read Mission43 and CAF-Idaho cut the Ribbon on the Idaho Outdoor Fieldhouse
Mission43 and CAF-Idaho cut the Ribbon on the Idaho Outdoor Fieldhouse
The J.A. & Kathryn Albertson Family Foundation (JKAF) announced today the completion of the much-anticipated Idaho Outdoor Fieldhouse, a groundbreaking and state-of-the-art facility poised to revolutionize Idaho's recreation scene for Mission43 and Challenged Athletes Foundation-Idaho (CAF) members.