The History
A Legacy of Investing in the Future
The Albertson Family Story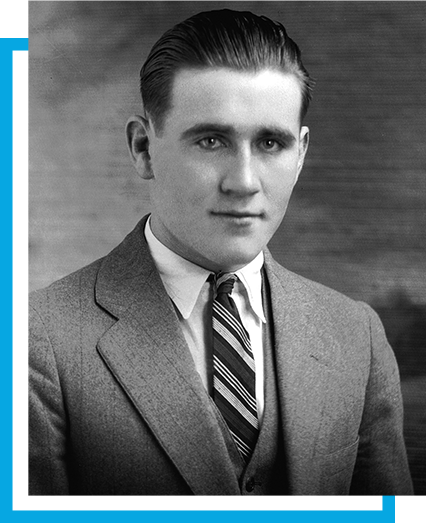 The Portrait
of a Leader
Joe Albert Albertson was born. Oct. 17, 1906 in Yukon, Okla., one of four sons born to Rhoda and Earl Albertson. The family moved to Caldwell, Idaho in 1909, where Joe grew up and went to school.
After graduating from Caldwell High School in 1925, Joe studied business for two years at The College of Idaho in Caldwell. While still at the college, Joe began his career in the grocery industry as a clerk at a local Safeway store and quickly moved through the ranks until he was supervising more than a dozen stores.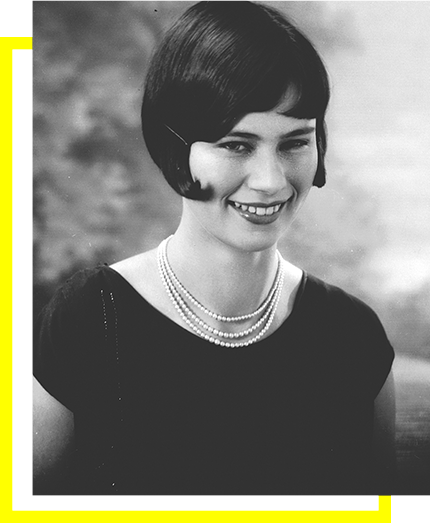 A Lasting Partnership
She was born Kathryn McCurry Aug. 27, 1908 in Boise, Idaho, the daughter of Neunan and Ida Mae McCurry. After graduating from Boise High School, Kathryn enrolled at The College of Idaho where she met Joe Albertson.
Kathryn attended The College of Idaho for two years after graduating from the Boise school. She believed in hard work and perseverance and was generous, loving and genuine.
Chemistry:
They fell in love
Joe and Kathryn met in a chemistry class at The College of Idaho. The class lived up to its name and they quickly fell in love. They married on New Year's Day in 1930. Their daughter Barbara Jean was born in 1933. Joe and Kathryn's lasting partnership was marked by great love, unwavering support and respect for hard work.
1939
First Albertsons


Store Opens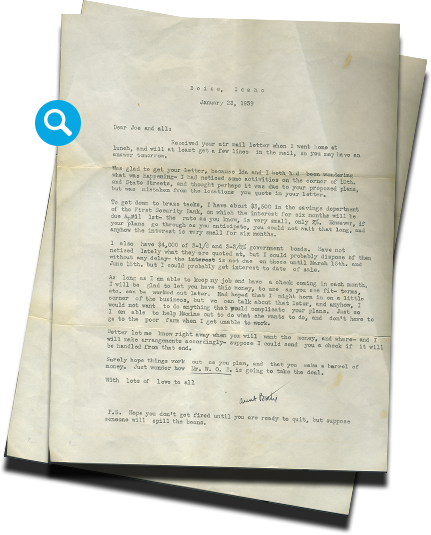 Success is Helping Others
With a generous investment from Kathryn's aunt Bertie, Joe Albertson founded his first store in 1939 on three simple principles: quality, good value and excellent service. Joe always insisted on putting the needs of the customer first, pioneering the complete one-stop, self-service supermarket concept. Albertsons was innovative for its time, introducing unique services like a scratch bakery, automatic donut machine, homemade ice cream and one of the first magazine racks in the country.
The family legacy of helping others help themselves grew stronger with Joe as he always looked for talent, investing in and supporting young people, often with "secret" scholarships, or simply a helping hand to a young person eager to improve. Joe believed that by helping them succeed, he would be helping Idaho succeed.
As Albertsons grew, so did Joe and Kathryn's passion for supporting the causes and communities they cared about.
Giving Back
Joe and Kathryn believed that once you made it, you should give it back. The pair began discreetly giving back in the 1960s to the state where they lived, loved, worked and raised a family.
Most often the focus of their giving was education.
Dedicated to Education
Some might find it ironic, that a man who accomplished so much without a college degree would be so dedicated to the idea that education is the gateway to future success, but Joe Albertson wholeheartedly believed in the untapped potential of Idaho students in our cities, towns and rural areas. The College of Idaho, where Joe and Kathryn first met, received many donations and scholarship funds. For a time, the school was even named after the family.
A Tradition of Values
While the world may change, values do not. They provide the constant, reliable guideposts that make consistency and stability of purpose possible. Joe had strong values and he believed in having integrity. He believed in the importance of leadership and in results. These values were incorporated into this family foundation and will continue to guide and shape decisions.
View Family Values >
Joe and Kathryn's Legacy
Joe passed away in 1993, and while the family and community endured a great loss, Kathryn persevered with the same resolute spirit the pair shared, remaining active on the Albertson Corporation Board of Directors for a number of years, while continuing to give back. Before Kathryn passed away in 2002, she gave $660 million of Albertsons stock to the Foundation.
Joe and Kathryn believed education opened the door to opportunity. They loved Idaho and its people. Concentrating most of their giving efforts in the Gem State was a way to honor the place the couple and their family called home. Today, the Albertson Family Foundation is still very much a family passion with a new generation of family members lovingly carrying on the legacy.
Focused on Community
Joe Albertson knew the secret of successful people is that they help others succeed. No matter how good you are, it can never be all about you. Joe and Kathryn felt strongly about family, about the importance of providing opportunity to others and about keeping an open mind – seeking creative new solutions to the challenges of a changing world.
The Albertson family is still guiding the work of the foundation. As a private family foundation, investing in education, learning and communities is a choice – not a requirement – and a fitting way to honor the generous and visionary legacy of Joe and Kathryn Albertson. It is a legacy built on the the belief that learning is the key to the opportunity for a better life in Idaho.
A Shared Love
of the Outdoors
Joe and Kathryn wanted to share their love for outdoor experiences with others. One of their greatest legacies is the 41-acre Kathryn Albertson Park nestled in downtown Boise. Visitors share the footpaths, gazebos, ponds, and beautiful, natural setting with an abundance of urban wildlife. The area where the park resides sat below Joe and Kathryn's home. Kathryn loved looking out over the land at the city, migratory birds, the Boise foothills and the horses that grazed below.
Watch Kathryn's home movies of the land before it became a park.
View Movie >
Joe and Kathryn establish the J.A. and Kathryn Albertson Foundation
1966
Idaho loses an icon with the passing of Joe Albertson
1993
Kathryn donates $660 Million of Albertsons, LLC stock to the Foundation. The Foundation embarks on a number of multi-year education initiatives surrounding technology, professional development and early childhood development, reaching every school district in Idaho.
1998
Kathryn, a loving person, known for her uncompromising standards, genuine personality and goodwill, passes away.
2002
Jamie Jo Scott, Joe and Kathryn's great granddaughter, becomes executive director of the Foundation after serving as the Foundation's grants coordinator for more than a decade.
2008
After 15 years and $500 million in Idaho's education system, the Foundation shifts its giving to statewide awareness campaigns and initiatives that support learning anytime, anywhere.
2012
The Foundation changed its name to the J.A. and Kathryn Albertson Family Foundation to honor Joe and Kathryn's legacy and continue the family's wishes for the great state of Idaho. Jamie Jo Scott is named president of the Foundation.
2015
In 2016, The J.A. and Kathryn Albertson Family Foundation will celebrate 50 years of giving. Totaling nearly $700 million to Idaho children and families.
2016
Boise, Idaho

Dear Joe and all:
Received your air mail letter when I went home at lunch, and will at least get a few lines in the mail, so you may have an answer tomorrow.
Was glad to get your letter, because Ida and I both had been wondering what was happening- I had noticed some activities on the corner of 10th and State Streets, and thought perhaps it was due to your proposed plans, but was mistaken from the locations you quote in your letter.
To get down to brass tacks, I have about $3,500 in the savings department of the First Security Bank, on which the interest for six months will be due April 1st- the rate as you know, is very small, only 2%. However, if your plans go through as you anticipate, you could not wait that long, and anyhow the interest is very small for six months.
I also have $4,000 of 3-1/8 and 3-3/8% government bonds. Have not noticed lately what they are quoted at, but I could probably dispose of them without any delay- the interest is not due on these until March 15th. and June 15th. but I could probably get interest to date of sale.
As long as I am able to keep my job and have a check coming in each month, I will be glad to let you have this money, to use as you see fit- terms, etc. can be worked out later. Had hoped that I might horn in on a little corner of the business, but we can talk about that later, and anyhow, I would not want to do anything that complicate your plans. Just so I am able to help Maxine out to do what she wants to do, and don't have to go to the poor farm when I get unable to work.
Better let me know right away when you will want the money, and where- and I will make arrangements accordingly- suppose I could send you a check if it will be handled from that end.
Surely hope things work out as you plan, and that you make a barrel of money. Just wonder how Mr. W. O. B. is going to take the deal.
With lots of love to all.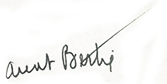 P.S. Hope you don't get fired until you are ready to quit, but suppose someone will spill the beans.
A Tradition of Family Values
Although the focus of the work of the Albertson Family Foundation may change from year to year, the values which guide the work do not. These values were inspired by what was important to Joe and Kathryn and their family members who shepherd the work of the Foundation today.
Our Values:
Family Engagement, Integrity, Leadership, Opportunity, Innovation and Results.