Mission43 Hosts FDNY Firefighter and Memorial Run to Honor 9/11 Article
Mission43 Hosts FDNY Firefighter and Memorial Run to Honor 9/11
Leading up to the organization's largest annual in-person event, the Mission43 speaker series welcomed decorated first responder and 9/11 survivor, Tim Brown.
More than 150 attendees gathered at the Boise Train Depot for the Mission43 "43INC" speaker series featuring Tim Brown — a retired FDNY firefighter who survived the terrorist attacks on September 11, 2001.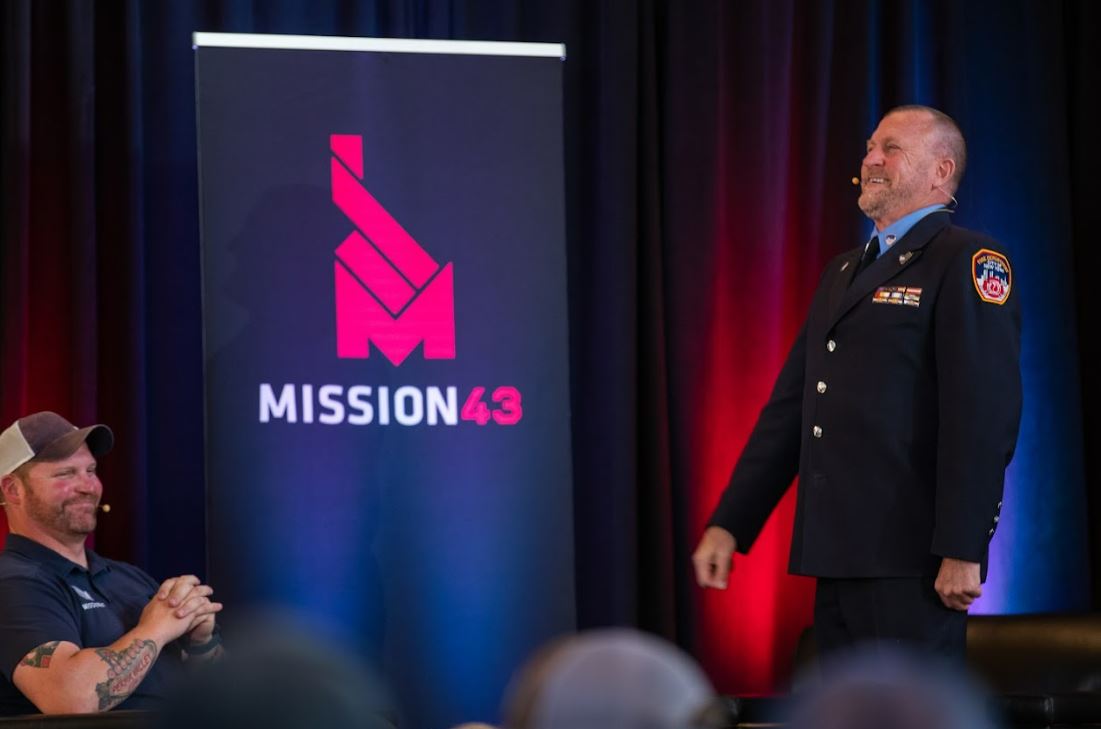 Brown — who lost close to 100 friends at ground zero — spent 20 years as a New York City firefighter. He also worked as a first responder during the 1993 terrorist attack on the World Trade Center, the 1995 terrorist attack on the Alfred P. Murrah federal building in Oklahoma City, and the deadly 2003 Station Nightclub fire in Rhode Island. He has served as a special assistant to the Secretary of Health and Human Services following the anthrax terrorist attacks in 2001-2002 and was a founding member of the U.S. Department of Homeland Security.
Leaders and members of Mission43 are no strangers to the challenges of life after service.

Dan Nelson, Mission43 Director
Now, Brown makes it his mission to tell the story of 9/11 and help communities better understand grief, the resilience of the human spirit, and the path to hope.
"There's a deficiency in teaching the whole truth of 9/11 in our schools," Brown said. "That's why the further away I am from New York, the more I try to make sure the people in each of these cities and towns know the story. I want to connect with them."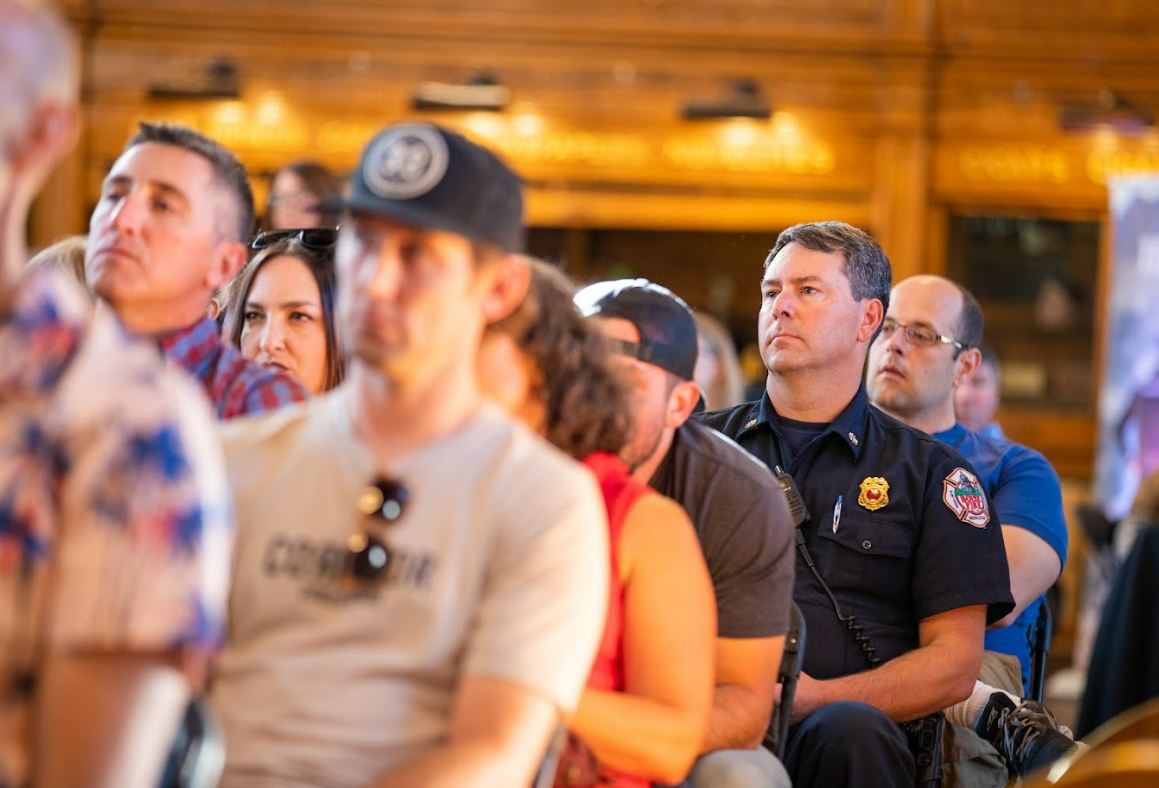 Much of Brown's message revolves around the importance of community and mental health resources for those in the veteran and first responder communities — a mission shared by members of Mission43.
"Leaders and members of Mission43 are no strangers to the challenges of life after service," said Mission43 Director Dan Nelson. "That's why we've developed platforms and resources to tell the stories of those who've served, as well as provide them with key resources for mental, physical, and social recovery."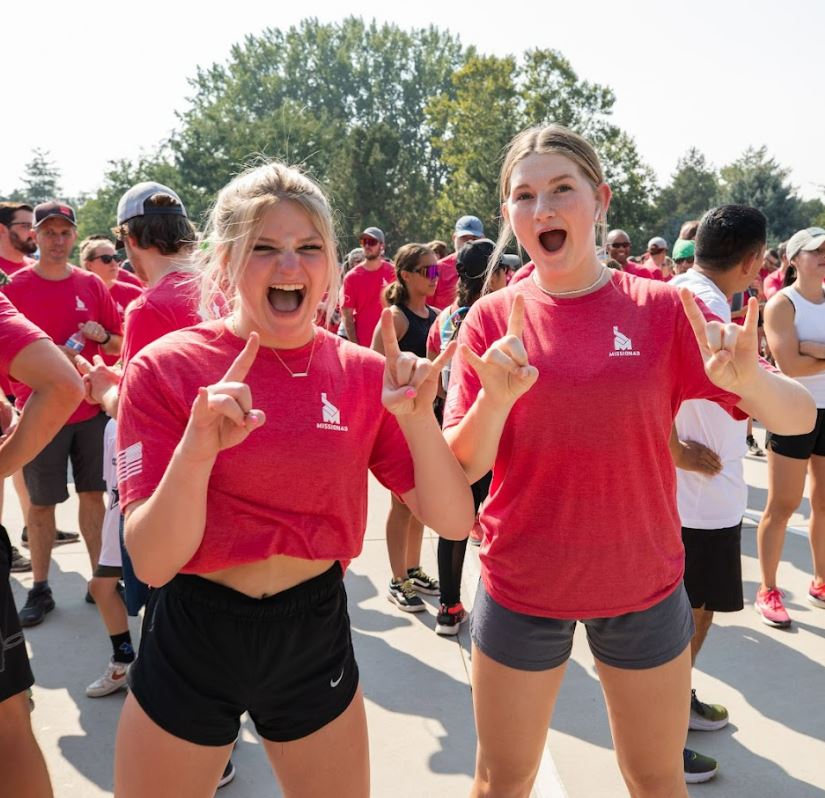 The 43INC speaker series set the stage for the annual 9/11 Miles of Remembrance run which took place the following Sunday. The run gives attendees an opportunity to honor those who lost their lives on September 11, 2001, and during the subsequent Global War on Terror. This year, more than 700 community members attended the run, where they nurtured a long-standing emotional connection with the historical significance and sacrifice of 9/11. 
Get Involved with Mission43
A lot of people who leave the military don't know what to do next which is why Mission43 has helped thousands advance to a better quality of life in Idaho after the military. After choosing to serve, veterans and their spouses should have access to the best resources available. Led by a team with over 50 years of combined service, Mission43 has created an environment for men and women to lead, learn, and inspire throughout Idaho, the 43rd state. And in 2023, Mission43 members and their families will also be able to take advantage of the future state-of-the-art facility and campus, the Idaho Outdoor Fieldhouse.
For more information on Mission43 and future events, visit www.mission43.org.
Recent Stories
Read Building a stronger Idaho in 2022
Building a stronger Idaho in 2022
$43.6 Million in grants throughout Idaho, supporting limitless learning, innovative leaders, and building stronger communities. At the heart of our work is a desire to accelerate opportunities in Idaho – cultivating and supporting partnerships that allow Idahoans to thrive and feel connected in their communities.