Kevin Satterlee: Navigating ISU to Greater Student Attainment Article
Kevin Satterlee: Navigating ISU to Greater Student Attainment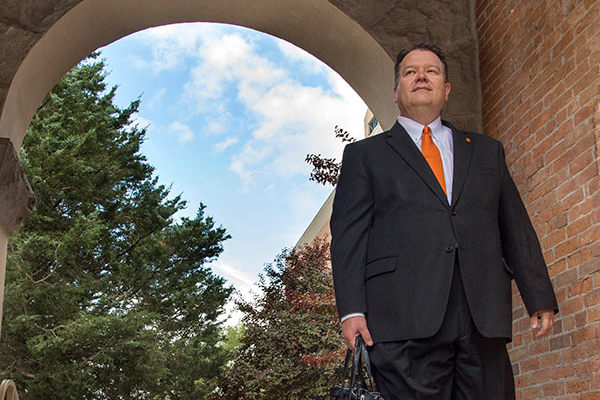 Whether you're a shiny new freshman just out of high school or a middle-age parent eyeing a career change, Kevin Satterlee wants to make sure you are supported in your educational goals at Idaho State University. And part of reaching those goals means starting – and staying – in school.
A natural problem-solver, Satterlee began his ISU presidency in June 2018 with his eyes set on improving students' barriers to success, and that meant tackling the institution's low student retention rates. As of 2022, six-year graduation rates at ISU were the lowest of Idaho's four-year schools – roughly 35% – compared to 63% nationally.
Why Do Retention Rates Matter?
A school's retention rate measures how many students will return for their second year of school, and is a strong indication of whether a school is living up to the expectations they set when recruiting students. Ensuring that a student returns year after year over 4-6 years to complete their degree or certificate is a key measurement to not just the institution's success but to a student's ability to achieve their academic and career goals.
"We are in the mission of helping students reach their goals and change their lives. We can only do that if they stay here and continue to learn and ultimately earn a degree or certificate. We have a duty to get students here and to help them succeed through graduation," said Satterlee.
A New Solution to a Common Problem
Earlier this year, Satterlee introduced a new data-driven software platform to help improve student retention rates. Known as Navigate, the program was designed by EAB, a company committed to helping educational institutions change through data-driven insights in five areas: enrollment, student success, data & analytics, institutional strategy, and diversity, equity, and inclusion (DE&I).
"The Navigate program has been widely recognized as an innovation and a game changer in student retention since it was first implemented by EAB and Georgia State University. Georgia State has become a national leader in improving their retention and graduation rates, so ISU sent a team to learn from their model," Satterlee explained.

According to EAB, Navigate is an application that shows college students all the important things they need to do in one easy-to-view path. Navigate also helps students pick a major, build a best-fit course schedule, register for classes, find resources on campus, and communicate with their advisor. With proactive and consistent academic advising, combined with accessible tutoring and academic support services Satterlee is confident ISU will see a significant impact on student retention and degree completion over the next several years.
Faculty Buy-In
When faculty and staff learned about the program and what it could offer ISU and its students, a startling 94% participated in the program's first year of deployment. But for Satterlee, this was an easy sell.
"Our faculty and staff are all here to ensure that our students are successful. They want to effect change and use every tool they can to do so. Our efforts go well beyond the new software and are being implemented in areas across the University because our entire team of faculty and staff want our students to succeed and graduate."
Navigate was initially piloted in the fall 2021 semester with two of ISU's colleges and roughly 1,500 undergraduate students. In spring 2022, the platform expanded to include six colleges and over 4,000 undergraduate students. This population represented over 90% of all first and second year students, which has traditionally been ISU's most vulnerable. ISU will continue to expand the platform each semester in a strategic manner.
Though it's still early, Satterlee is already seeing retention rates rise ever so slightly across all participating colleges within ISU, and the number of students with GPAs below 2.0 are decreasing.
"We believe the success of this platform is directly linked to the opportunities that Navigate provides by having our faculty, academic advisors, and key support departments working together to intervene and assist those students that need our help," Satterlee said.
Satterlee is excited to see what the future brings. "This is an ongoing effort, but the end result should be higher rates of student persistence and degree attainment."